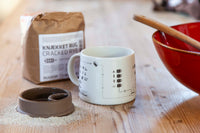 Rye cup - the original baking cup
Sourdough container, measuring cup and recipe combined in one design
DKK 329
Ryecup + starter box
Get your Ryecup delivered with freshly ground flour, kernels and seeds for your first 3 rye breads directly from our organic mill on Fyn, Denmark in a complete starter box. Then you can start the danish rye bread bakery.
DKK 429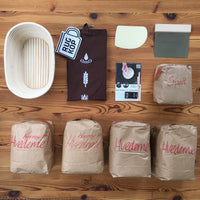 Learn to bake sourdough bread
Get a step-by-step recipe (in danish) and video guide when you buy Starter Pack for Sourdough Bread. The package includes flour, equipment and online course.
Starter kit for sourdough bread
Freshly ground organic Flour, seeds & grain
Bake again and again - Rye bread subscription
Subscribe to pre-packaged flour box with all ingredients for 7 large organic Rygkop rye breads . Delivered to the front door in a frequency of your choice. Freshly ground at Kragegården's stone mill.
DKK 249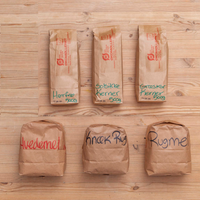 Why freshly ground flour?
More taste and nutrition
"As soon as flour is milled, the fat in the germ and husk parts of the flour slowly starts to go rancid, which gradually gives a more bitter taste. Wholemeal flour should therefore ideally not be more than 1 month old. The more freshly ground wholemeal flour you use, the tastier it will be your bread."
From the book "Meyers Bakeskole"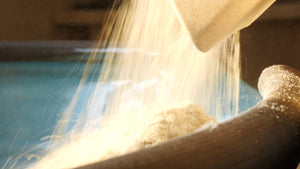 Video: How to bake with Rugkop
Rye gear
All special equipment for baking rye bread: Dough trays, apron, rye bread slicer machines and flour mills.
See more rye equipment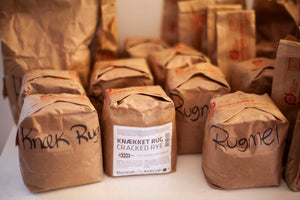 Flour boxes
Put together your own flour box and have freshly ground flour, grains and kernels delivered to the front door. Freshly ground and organic from Kragegården's stone mill.
Get rid of the drag - up to 25kg (DK only)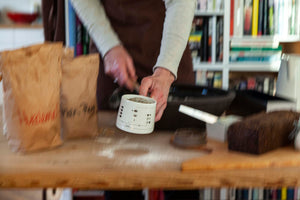 Rye cup
The rye bread baker's Swiss knife. Everything you need to get started with home-baked rye bread. An obvious gift idea together with a portion of sourdough.
DKK 329
Other rye cup bakers
I gave my husband a Rye Cup as a Christmas present. He is really happy with it and has only had good results by following your recipe. He has baked rye bread for many years, always 2 pieces, where one almost always managed to become dry or moldy. Your recipe and procedure for baking one loaf at a time is wonderfully easy and quick.

Benedict
I received my Rye Cup in the mail yesterday afternoon, made dough at 22 and baked at 8 to morning. It is the best rye bread I have ever baked and tasted. It was brilliant that the recipe for sourdough came in the mail a few days ago, so I was ready when the cup arrived! Thank you so much for you😍

Kirsten S.
Rugkop makes it playfully easy to be a master baker and everyday hero. In my cup is my sourdough, on it is my recipe, and when I bake, it is my measuring cup.

Kasper GJ
Grain mills - grind your own fresh flour
Professional rye bread mold
Our own razor-sharp 3 liter Rye bread mold that fits the Rye cup recipe. Acid-resistant non-slip coating. Comes with a bread bag made of organic cotton for storing the freshly baked rye bread.
DKK 389
Share your rye bread on Instagram with #rugkop