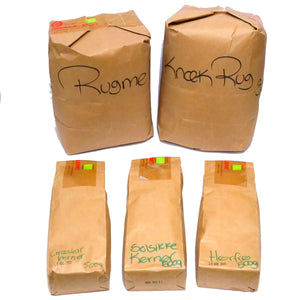 Rye bread box - 100% Rye is for you who want rye bread without wheat flour. You replace the wheat flour in the Rye cup recipe with half a cup of rye flour and half a cup of cracked rye kernels. You can easily do that. Maybe the rising time needs to be extended by a few hours.
The rye bread box - 100% Rye
contains all the ingredients for seven Ryecup rye breads without wheat flour.
You get 3kg rye flour, 3kg broken rye kernels, 500g sunflower seeds, 500g linseed and 500g organic and freshly ground pumpkin seeds .
If you choose to subscribe to the Rye Bread Box, you get our cheap shipping of DKK 50, and you can add other items up to 25kg (20kg at the parcel shop), without the shipping price increasing.
Read more about the subscription scheme
here.