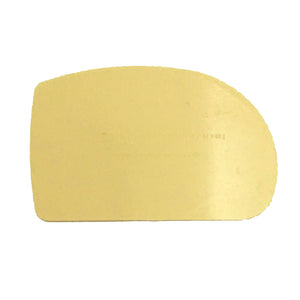 Dough card / Dish scraper
A scraper is indispensable when baking or making chocolate. As the name says, it is used to scrape off dishes, bowls and the like. It is good for handling moist bread dough and rye bread dough when the dough needs to be scraped out of a container or pushed into place in a baking tin. The dish scraper can possibly can be cut so that the width fits a specific baking form. Remember to dip it in water if you use it for moist bread dough.
The dish scraper is cream-coloured and has the Art and Kitchenware logo.

Asymmetric, 12 x 8.6 cm
The dish scraper can withstand up to +105 °C.
Food approved PP plastic (polypropylene).
Dishwasher safe.